Despite being today's byword for unfashionable for some, for motor enthusiasts the decade was the golden age of experimentation during which many a timeless legend was created. The 1980s were all about exaggeration and cars were no exception. Not by chance, that was when turbo went mainstream, propelling cars well beyond the speed - as well as the safety - limits.
Still, many miss those days. The nostalgia for the thrill of risk is accompanied by the nostalgia for those indomitable Youngtimers that have a tendency of getting out of hand from one moment to the next. Today they are once again the object of desire for incurable nostalgists.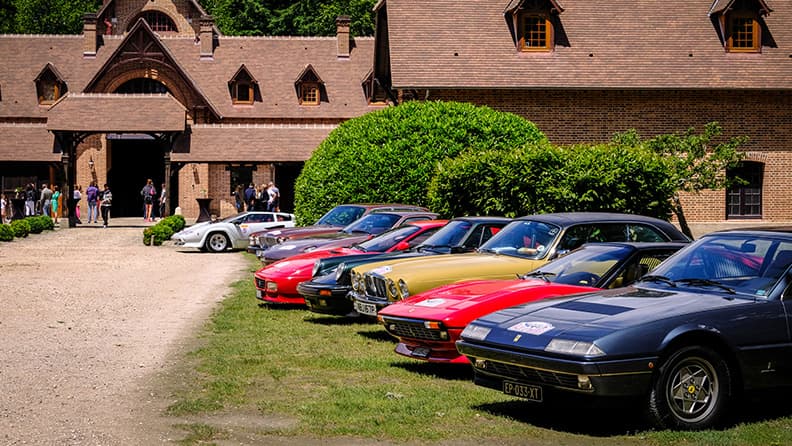 A TURBO IN THE ENGINE
Turbochargers were widely used in races at those days when drivers were real motorsport heroes given the difficulty implied in driving the supercharged cars. An example was that of the Group B category introduced by FIA in 1982 to regulate circuit races and rally. These cars were characterised by the brute force unleashed by a small, light-weight structure that struggled to contain so much power. As a result, vehicle stability at high speed was very precarious and only the most experienced drivers could successfully maintain control. One of the most famous of these cars was the Renault 5 Maxi Turbo, for which several elements were borrowed from the Formula 1 V6 Turbo to develop the 350 hp engine. Then there was the Peugeot 205 Turbo 16 and the Lancia Delta S4, considered by many to be the maximum expression of rally cars in the '80s from a technical and performance point of view. Formula 1 had its own generation of powerful and insidious cars in the 1980s. The turbo age in F1 went from 1977 to 1988 when accidents caused by the powerful engine were nearly commonplace and turbochargers were banned until they made a comeback in 2014 together with modern technologies capable of handling them.
REVIVAL IN VENDÔME 80
Vendôme 80 was a three-day event in Paris and the Loire Valley featuring cars and motorcycles from the turbo era for die-hard '80s fans worldwide. For its first edition, which took place from June 7 to 9 June, 2019, the cars firstly lined up for a concours d'elegance, together with their owners sporting 1980s outfits, and were then engaged in a rally from Paris to Vendôme. Several Ferraris were there, including a legendary F40 supercharged by two turbochargers. There were various versions of the Porsche 911, including a 3L Turbo, a fascinating model but only suitable for expert drivers and then an Alpina B7 Turbo, a Lotus Esprit Turbo, an Alfa Romeo Spider, a Mercedes 280 SL and a 300E Brabus, to mention a just few.The motorbikes marketed between 1980 and 1989 also had that extra something and still manage to convey a feeling that is a combination of insanity and freedom. A Honda CX500 Turbo and a Yamaha RD500LC were present in Vendôme 80.
The event was in the experienced hands of the SRO Motorsports Group, organiser of GT competitions and a motorsport event specialist for 25 years, together with the Association pour la Promotion de l'Excellence Française, founded by writer and journalist Emmanuel de Brantes.
Read more