Speed skiing is the fastest non-motorized sport in the world on land: it consists of descending down snowy slopes at great inclines and at high speeds. In March 2016, at the Var Speed Masters, the Italian skier, Valentina Greggio, beat the world female record in this discipline with a speed of 247,083 km/hr.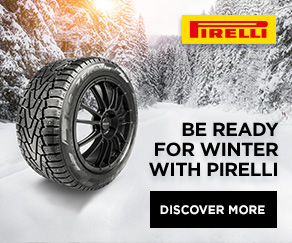 We interviewed "Speed Vale" to learn all about the road that led her to achieve such determined results and incredible performances in the winter, a season that's difficult for any type of mobility, due to its challenging weather conditions.
A Winter Champion knows how to face each season without sacrificing performance. It's just like the Pirelli Winter Range, which allows one to continue to enjoy driving, regardless of the hidden dangers of low temperatures. Valentina Greggio is a great athlete and a true Winter Champion because she makes her winter performance a reason for living.
Valentina, where does your passion for this specific skiing discipline come from?

"I began skiing when I was 2 and a half years old. I practiced alpine skiing, but I was really passionate about speed and I always wanted to escape from the trainers to go down long mountain slopes. When I was 19, my current coach asked me if I wanted to try speed skiing. From that moment on, I never stopped."
Speed has to be an important component to practice this sport, right?

"Speed is important, but what keeps you going is passion. Being a niche discipline, it's not my actual job: I'm a semi-professional athlete and I'm in the last year of my Masters in Motor Science. I'm also a ski teacher and I train a group of children in athletics."
How do you prepare for the winter?
I've been doing aerobic training at the gym since May. I try to simulate what I could find on the trail, so I use a lot of equipment for resistance. However, I must admit that it's impossible to always have everything under control at a physical level. Otherwise, speed skiing would be a videogame and not a sport. I work hard with my team on two fundamental things: fluidity and a good aerodynamic position."
The third important thing is equipment: how do you study the instruments you use for races?

My team and I personally take care of the materials that I use in races. We try to stay up to date and to always do our best. There are many important things to choose before the race: the choice in ski, the ski wax, the spoiler build, the choice in helmet shape, the shoes and the ski wear, which I have made for me in France."
We have defined you as a Winter Champion because you know how to face this season with the right balance of performance and safety. How does one become such a champion?
"In order to become a winter champion in my discipline, you have to know the trail in terms of safety and the lines to trace to get more speed. Another way to excel in speed skiing is to know the type of snow that you have in front of you. This helps you to prepare the skis for the following days and for the final. From a human point of view, you need to know how to face the delusions of fatigue and sacrifice. During the race, you have to know how to stay concentrated: there's no time to think about adrenaline and emotion when you're going down, just performance."
Read more