It always rains in London, women don't know how to drive, tyres are round and black...Sterotypes like these go on and on. They might be irritating and can often touch a nerve, but at the same time they do have one thing good about them: they can be broken. In fact, they can be easily proven false by a good healthy dose of reality. It turns out that it rains less in London than in a lot of places in Southern Italy, women cause far fewer accidents while driving (insurance companies love them for it) and... Not all tyres are the same. They may all be round, though even this is up for discussion, as not all of them interact with the ground in the same way. They are definitely not all black.Not anymore. Especially if we're talking about tyres from Pirelli. And certainly if we're talking about Pirelli P Zero and Winter Sottozero new edition tyres with coloured flanks, which make their debut on the international stage at the Geneva International Motor Show, featured not just at the Pirelli stand but also on the regal cars on display, whose coloured tyres make them even more stunning and seductive.
Bye bye to the all black look: tyres are finally getting some colour.
The basic colours of the Color Edition of P Zero tyres, the prestige tyres and high performance range from Pirelli, are 7 (yellow, red, white, silver blue, green, orange) available in Europe, Japan, Russia, soon in US and China. And soon the entire spectrum of colours will be available on request for the most inspired imaginations, style experts and for whomever "Every colour is a personality, every personality a shade, and black, completely black, doesn't represent me."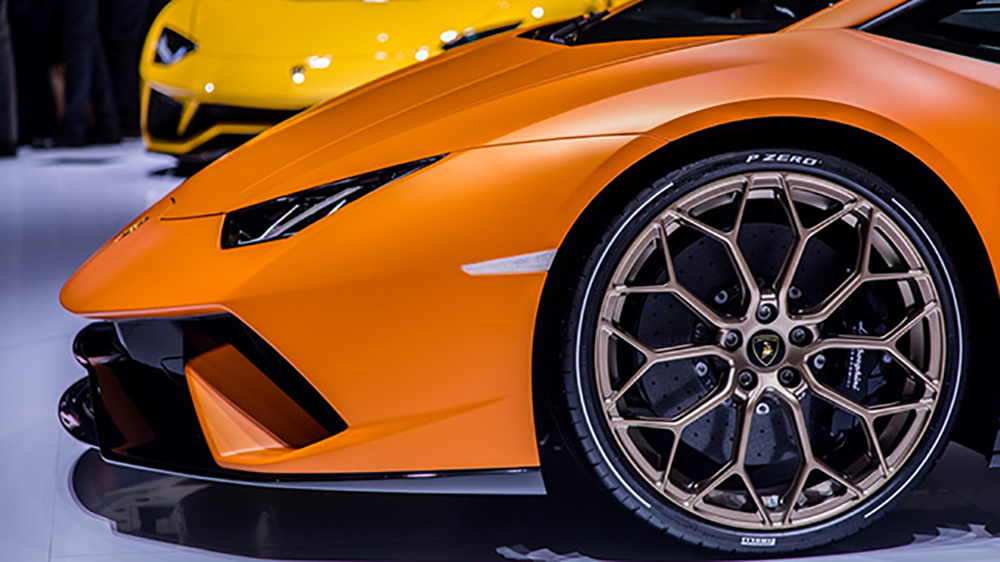 Pirelli Technology in Technicolour. Behind the genuine style and behind the innovations which make the real difference lies substance and technology: research, testing, application. In fact, coloured tyres are not totally new, even for Pirelli. Yet the new tyres from Pirelli are truly innovative, providing a wide variety of colours which retain their stability when applied to the side of the tyre. Thanks to their experience developed in F1 where coloured tyres have been around since 2011, Pirelli technicians have developed an innovative imprinting process, new compound solutions and specially designed defences to preserve the integrity and brightness of the colour under normal conditions of use. Specifically, a material has been introduced which, without affecting the performance of the tyre, creates a protective barrier to maintain brightness while reducing the risk of the being worn away over time.
The P Zero Color Editions have made their debut on Pagani, Lamborghini and McLaren cars. Coloured tyres will then be introduced gradually for all the premium models of the largest car manufacturers.
This is the demonstration that the latest vehicle industry provides new great technologies and ideas also for tyres, not only to improve efficiency but also to get better in designs and satisfy customers's demand from every point of view, because also small details are important.
The high standard of materials used for tyres and the colours used ensure longlasting brightness. Obviously, light colours such as white, will require a little bit more maintenance, since we're talking about tyre and tread colours and they will be exposed to roads.
In any case, drivers can be assured that tyre performance won't be undermined and wheel will only gain in good-looks, compared to the previous standards. Actually, these new coloured tyres are also technological and will send a lot of information, via app, to your telephone. Drivers will be informed about the tyre pressure, tread status, wheel temperature and some infos also about the speed and fuel, to ensure a safe and always safer drive.
Read more
Find
Select the product that fits for you
Want more