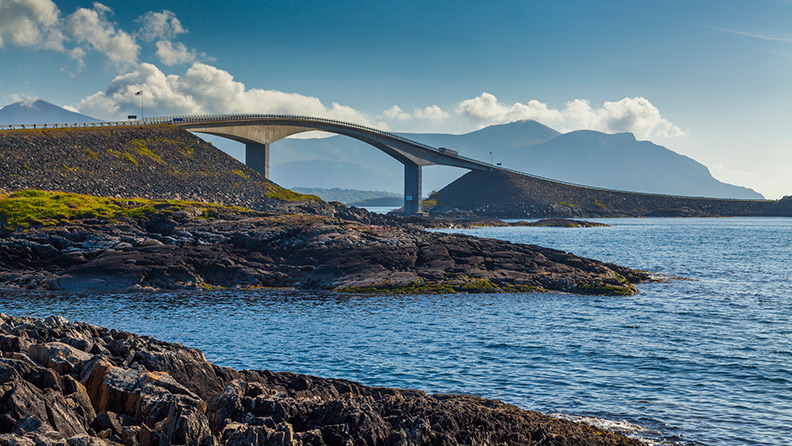 1. The Atlantic Road
Møre og Romsdal, Norway
(5 miles/8km)
Fjords, mountains, wild seas, rocky islands and picturesque villages – you'll find thousands of miles of them along Norway's long Atlantic coast. For sheer drama, however, the short stretch called 'The Atlantic Road' is champion. It links a chain of tiny islands by means of a series of exquisitely-engineered, money-no-object bridges and causeways. It's so spectacular, especially in rough seas, that 10 different manufacturers have filmed car commercials here.
2. Stelvio Pass
Bormio, Italy
(12 miles/20km)
It may not be the prettiest or most scenic route, but Stelvio is often chosen as the world's best driving road. Even the BBC's Top Gear chose this high alpine route from Italy into Switzerland as its ultimate drive. It's all because of the 'wall' of 48 hairpin bends climbing up to the dizzying 9,045ft (2,757m) summit of the pass… and the 34 bends on the way down. That's an awful lot of arm action and tyre squealing – just what enthusiastic drivers love.
3. Hardknott Pass
The Lake District, England
(15 miles/24km)
Brace yourself for what's been called 'Britain's most outrageous road'. This remote, savagely-beautiful pass near England's highest peak, Scafell Pike, is as narrow as a bridleway, with unguarded drops and gradients of 33 per cent. Those scarily steep slopes and ridiculous hairpins make you reach to change down when you're already in first gear. High in the West Cumbria fells, so expect frequent horizontal rain, buffeting winds and slippery roads, too.
4. Route One
Iceland
(828 miles /1,332km)
Iceland's national ring road runs as a continuous loop around its coast. For locals it links all the fishing settlements clinging to edge of the island. For visitors it offers a spellbinding journey through extraordinary landscapes of glaciers, volcanoes, waterfalls, geysers, lakes, mountains, sea stacks, fjords, islands and icebergs. Keep watch for boiling blue geothermal mud pits, fresh lava flows and inquisitive reindeer. And when it gets dark, look forward to a show from the Northern Lights, too.
5. Overseas Highway
Miami to Key West, USA
(113 miles/182km)
This driving route crosses so much sea that it's more like a boat trip. A dream-like stretch links the mainland with the string of islands at the southern tip of Florida. It's an exotic journey of coral, mangrove and sandy palm-fringed beaches. Along the way you'll drive over 42 sea bridges, one of which is seven miles long. These constant seascapes are best appreciated during a classic Florida sunrise or sunset.
6. Icefields Parkway
Banff to Jasper, Canada
(140 miles/230km)
The drive north from Banff to Jasper is an eye-boggling journey through the heart of the Rocky Mountains. The highlight is the Columbia Icefield, a massive 125 square mile (325 square km) area of solid ice up to 1,000ft (365m) thick and including more than 100 glaciers. The rest of the drive crosses two national parks, sweeping through vast evergreen forests alongside snowy peaks, thundering waterfalls and sparkling lakes.
7. The Garden Route
Mossel Bay to Storms River, South Africa
(148 miles/238km)
As one of the world's great road-trip holidays, the acclaimed stretch to the east of Cape Town offers a smooth, well-signed highway along a dream coastline. You'll drive between the Indian Ocean and the forested mountains, enjoying a sequence of beautiful sandy beaches backed by lush green hills and elegant old-colonial seaside towns.
8. Road of the Seven Lakes
Villa la Angostura to San Martin de los Andes, Argentina
(68 miles /110km)
This wonderful drive through Argentina's 'Lake District' used to be suitable only for off-roaders but it has recently been fully paved. Now the lovely, winding scenic route is easy to drive – as long as you don't get distracted by the constant views of lakes, forests and rivers. Watch out for cattle and horses from remote farmsteads wandering aimlessly across the road and make sure you stock up with fuel and drinks because there are no services along the way.
9. Stuart Highway
Darwin to Port Augusta, Australia
(1,761 miles/2,834km)
Australians call this north-south route across the heart of their country 'The Track'. You'll follow the intrepid footsteps of Scottish Victorian explorer John McDouall Stuart from the arid outback desert of South Australia to the lush tropical northern city of Darwin. Take a short detour to Uluru and watch out for wayward kangaroos and huge 'road-train' convoys of high-speed trucks.
10. Over the Water Highway
Hubei Province, China
(7 miles/11km)
Here's a chance to drive on a new road that winds down the middle of a deep river gorge on stilts above the water. Engineers built it this way in preference to on the shore to protect the woodland environment of the banks. The spectacular stretch of road is as impressive to look at as it is to drive.
Read more