"Over the top" is the phrase that describes it best. Jeep has released a new Grand Cherokee: Trackhawk. And, like a hawk, this all-American car with its imposing body and supercharged engine inspires a certain amount of awe. The car brand's objective was unquestionably clear: to build the most powerful SUV on the market. And it has certainly come up with something extraordinary.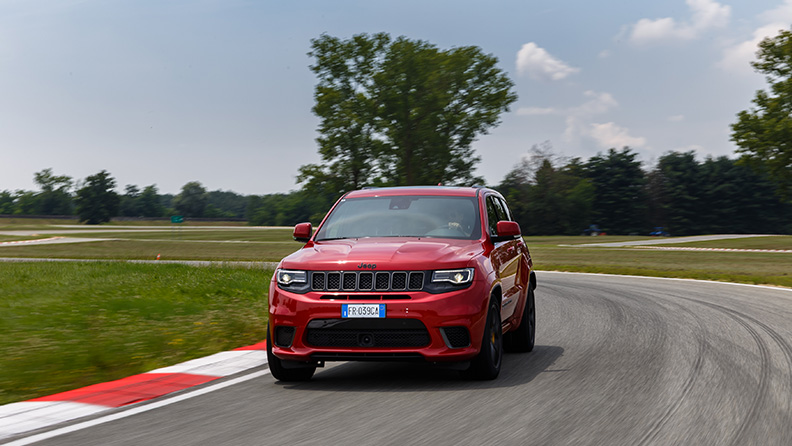 The Trackhawk runs on a gigantic, old-school, cast-iron block engine. In technical terms, it is a Hemi V8 6.2-litre, with two valves per cylinder and supercharged by a volumetric lobe compressor. With a torque of 868N-m at 4,800rpm, the engine releases 710hp, making this SUV pretty much unrivalled in its category.
It can reach speeds of up to 289kph (180mph) and go from 0 to 100kph in 3.7 seconds. The latter is made possible by a special Launch Control function and Torque Reserve system. If you're interested in the car's performance, an 8.4in touchscreen features an exclusive Trackhawk version of the Performance Pages app to monitor and record a wide range of metrics, while a sensor in the engine measures and records the levels of horsepower (hp) and Newton-metres (N-m) reached.
The Quadra-Trac on-demand four-wheel-drive system, also equipped with an electronic limited slip rear differential (ELSD) and a single-speed transfer case, guarantees maximum traction on every type of terrain, while the Select-Track System lets you choose between various dynamic driving modes – Auto, Sport, Track, Snow and Tow – that adjust the transmission, suspension, Stability Control function and other variables.
The Trackhawk fuses the feel of a race car with the comfort you expect from an SUV. This is why, even with a monstrous engine under the bonnet, it remains a utility vehicle in every respect. A powerful car with sophisticated stylistic solutions applied: the Jeep brand's iconic seven-slot grille remains the star, while at the rear an aerodynamic spoiler accompanies large tail lights and signature LED lights, which are also present on the front.
Four large exhaust pipes help emphasise the power of its engine. Supporting the colossal car's 2,600kg are Pirelli Scorpion Verde All Season tyres, fitted to aluminium alloy wheels with 20in titanium finishes.
The design of the interior is also sporty and sophisticated, with inserts in carbon-fibre and wood and racing leather seats that envelop the passengers, keeping riders firmly in place whatever the journey.
Hi-tech performance and safety
Various multimedia functions, including the navigation, can be accessed via the cutting-edge Uconnect system. Active Noise Cancellation is standard. There is also an entertainment system with two screens and a Blu-ray player for the rear seats, with two different audio systems.
As well as performance, the new Jeep also focuses on safety, with several special features: a rear camera to view a trailer; Adaptive Cruise Control with a stop function; Advanced Brake Assist to apply full braking power; a blind-spot monitoring system; a parking assistance system; Forward Collision Warning Plus Mitigation and Lane Departure Warning.
Read more