Winter in the UK all but guarantees bad weather, rather than our summers which at least allow us to roll the dice on a nice weekend or two. And if one thing is entirely undesirable if you're planning to take a McLaren supercar through the Yorkshire Dales, it's varied and challenging road conditions created by the aforementioned bad weather.
So who would plan such a trip at this time of year? Mr JWW, a man with the ultimately enviable job title of supercar vlogger. Equipped with a small arsenal of professional-grade cameras and a fleet of some of the most desirable cars on the planet, Mr JWW's popular videos immerse his viewers in a world of horsepower, style and dream drives.
Working directly with McLaren, Mr JWW embarked on a trip to find some of the worst conditions winter has to offer. Why, you ask? To prove his McLaren 675LT, and by extension supercars in general, are an all-year-round affair.
To keep Mr JWW's McLaren 675LT on the road throughout winter and his Yorkshire escapades, we swapped his track-inspired Trofeo R tyres for our high-performance Sottozero 3 winter tyres at our Pirelli Performance Centre in Burton.
Our tailor-made Sottozero 3 tyres are the product of years of innovation, research and close collaboration with the world's best car manufacturers. But above everything, one thing remains a priority for a vlogger like Mr JWW - putting supercar performance on the road, and keeping it there all year round.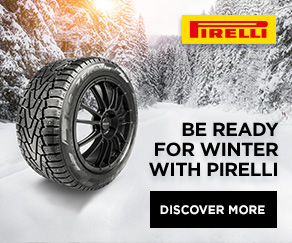 And as Mr JWW discovered at our PPC, our winter tyre tread is designed to capture and retain snow in order to gain traction. Snow on snow provides far more grip than snow on rubber, much like how a snowball will grow and stick to more snow as you roll it along. Our unique tread pattern gives our tyres grip in the snow as well as efficiently displacing water in wet conditions to prevent aquaplaning.
All features which give drivers confidence to get on the road in any and all conditions winter can conjure.
Seeking out a location which was all but certain to offer mud, rain, fog and even potentially snow, Mr JWW and McLaren set their sights on the Yorkshire Dales. The aim of their trip was to prove that come wind, rain or shine McLaren supercars, fitted exclusively with Pirelli tyres, can be used all year round.
When they arrived at their destination the weather was perfectly unpleasant; exactly as they had hoped! Having fitted both a 570GT and Mr JWW's 675LT with the right tyres for the job, the tight and wet roads provided a true test for McLaren and Pirelli's all-year-round credentials.
The full day's drive saw every season represented, with spells of sunshine, bouts of rain, rolling fog and even high winds proving supercars have no place hiding away in a garage for any part of the year.
And one thing is for sure, getting your supercar on the road during winter, getting it dirty and putting it through its paces in less than desirable conditions looks like one hell of a good time!
Mr JWW documented both his experiences at our PPC in Burton and his winter drive with McLaren on his new Sottozero 3 tyres. Check out his YouTube channel and the videos here!
Read more