Certainly, the technical basis of the McLaren Senna is its "younger sister", the 720S, but the fine-tuning conducted by the technicians in Woking has given rise to a car that definitely goes much further. It is certainly capable of driving through the gates of the most challenging race tracks and of battling it out between curbs. Just like the unforgettable driver it is named after: Ayrton Senna. A Formula 1 legend, the fastest in races and the most beloved by the public. And now he has won the ultimate title, definitive consecration in history thanks to the McLaren Senna.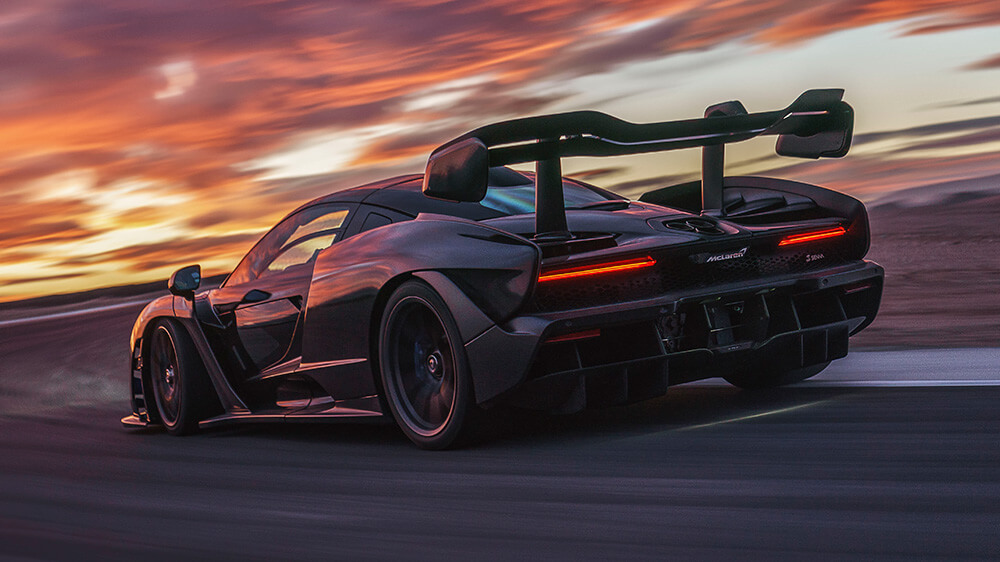 It inherits the 4-litre V8 bi-turbo engine from the 720S but the power has been boosted to 800 Hp. There is nothing hybrid about it, as was the case instead on the P1, just pure mechanical performance: stopwatch in hand, this means speeding from 0 to 100 in 2.8 seconds and reaching a top speed of 340 km/h. This is also thanks to its feather-like weight: its 1,198 kg rank it among the lightest hypercars on the market, on a par with the legendary cars from the Eighties and Nineties when all the rules and restrictions of today didn't yet apply and making a car lighter was so much easier. The package is completed by a dual clutch 7-speed gearbox, rear wheel drive, carbon ceramic brakes, Pirelli P Zero Corsa tyres and ultra-sophisticated electronics. The driver is given the possibility of changing the personality of their McLaren Senna using a small knob with three positions (Comfort, Sport, Track), so as to limit the car's exuberance on wet roads or in everyday driving or instead let it loose on the track.
The new McLaren Senna is part of the Ultimate Series chapter. It was preceded by the hybrid P1: launched in 2013, it combined a thermal engine with an electric one, which together allowed the car to exceed a total of 900 Hp. However, it was weighed down by its excessive 1,500 kg. But the origin of this noble English lineage was the McLaren F1. A masterpiece designed by Gordon Murray in the 1990s, at the time this was the road car with the fastest ever naturally aspirated engine: the BMW V12 engine delivered "only" 670 Hp but with its 1,100 kg, it was capable of incredible performance levels. What's more, it is distinguished by the decision to create three seats in the passenger compartment: the driver's, in the middle and further forward, and two at the back for passengers.
Only 500 Mclaren Sennas will be produced in total. And anyone who has already driven it says that Ayrton would have been proud of the work accomplished by his beloved McLaren.
Read more