Thanksgiving is a unique American tradition and national holiday in one. Held every year on the last Thursday in November, it's a prized time for families to come together and give thanks over a delicious meal, traditionally involving turkey (46 million are consumed each thanksgiving in fact!), stuffing, cranberry sauce, sweet potatoes, candied yams and other regional dishes, depending on where you are in the US. Thanksgiving originated as a harvest festival. The modern Thanksgiving holiday tradition can be first traced back to 1621 in Plymouth, Massachusetts, when the Pilgrims celebrated their first harvest in the New World.
Given the extended break, it's a popular time for hitting the road, whether returning to family or venturing to a new destination. In honor of this celebration, here's a list of idyllic American natural treasures to drive to – and be thankful for.
1) Great Smoky Mountains, North Carolina & Tennessee
The Great Smoky Mountains or 'Smokies' as it's also known immediately brings to mind a sense of the frontier spirit. The Smokies are an awe-inspiring mountain range crowning the Tennessee-North Carolina border, often seen with a smoky haze hanging overhead thanks to natural fog (hence the name). As a UNESCO World Heritage site and America's most visited national park, boasting over 187,000 acres of old growth forest and the biggest black bear population in the Eastern US – we just had to include it on our list of American nature spots to be thankful for. A great driving itinerary here is the Cades Cove scenic loop, a picturesque drive that winds for 11 miles around The Great Smoky Mountains National Park. Once in the National Park, take the first right on Little River Road after the Sugarland Visitor Center. Stay on this scenic road until you hit Cades Cove – and be sure to keep an eye out for wily coyotes, white tail deer, foxes, elks and of course, black bears en route! For other charming drive ideas see here.
Cades Cove. Credit: Tennessee Department of Tourist Development
Hyatt Lane in Cades Cove. Credit: Paul Miller
2) Hill Country, Texas
Cowboy culture is an iconic part of America's heritage and identity, so it's only fitting that a drive featuring the "Cowboy Capital of the World" is a part of this list. Hill Country is a classic country drive along roads to the north west of Austin and San Antonio cities in Texas. The route takes you through the rural rolling hills, rivers and canyons of the 'Lone Star State', plus plenty of quirky, character-packed small towns to stop into on the way.
From San Antonio, head northwest on Highway 16 until you reach Bandera, the self-proclaimed "Cowboy Capital of the World". Here you can visit a 'dude ranch' or the Frontier Times museum to learn about historic Texas culture, which blends the stories of Native Americans and Texas cowboys. Other attractions in this driving loop include Fredericksburg town, the Enchanted Rock State Natural area (to peep the 1 billion year old huge pink granite monolith), New Braunfels and Gruene (a country music landmark).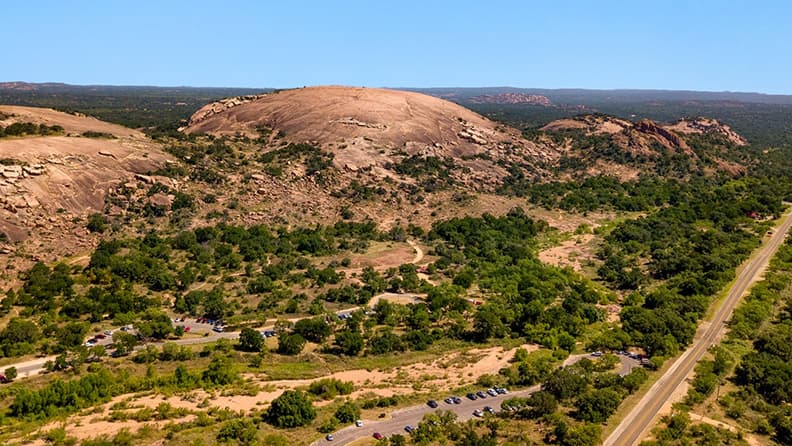 Enchanted Rock. Credit: Travel Texas / Chris Zebo
3) The Badlands, South Dakota
The Native Americans were the first to call this National Park area in South Dakota the "bad lands" or "mako sica". Of course, that makes it even more alluring and rightly so, as you really will be thanking the Badlands National Park over and over throughout your drive for its 244,000 acres of sweeping prairie-style parklands and epic photo opportunities.
Start your road trip from Rapid City, so you can make the short drive to the nearby and unmissable Mount Rushmore landmark, the 60 foot high granite sculpture featuring the faces of U.S. presidents George Washington, Thomas Jefferson, Theodore Roosevelt and Abraham Lincoln. Then head onto the I-90 to travel to Badlands National Park, going in at the Pinnacles entrance. Taking your pro camera might be a good idea, with 16 designated scenic stopping points to see the breathtaking rugged rock formations (containing one of the world's largest fossil beds in fact) and native grasslands. Yellow Mounds Overlook is a particularly plum spot for Instagram selfies, thanks to the yellow to rose pink ombre color graduation on the rock mounds, as well as Panorama Point Outlook. Buffalo, bighorn sheep and antelope can also be spotted along Sage Creek Rim Road. And be sure to stick around for sunset (or sunrise), as the light cast over the Badlands is incredible, according to Park Rangers in the know.
Badlands. Credit: South Dakota Department of Tourism
Badlands. Credit: South Dakota Department of Tourism
4) Yosemite
Yosemite is one of America's most loved national parks, located in California's Sierra Nevada mountains. It is world famous for Lyell Glacier, Mirror Lake, its majestic, ancient sequoia trees (some tipped to be a ripe 3000 years old) and Tunnel View: the panoramic vista of Bridalveil Fall and the El Capitan and Half Dome granite cliffs. Yosemite was in fact the first natural land area set aside for preservation by the U.S. Government 144 years ago when Abraham Lincoln signed the act in 1864 protecting the area. We can also thank John Muir, the preservationist, for his efforts in protecting this natural wonderland sculpted out of 100 million year-old granite. As Muir said himself, "No temple made with human hands can compare to Yosemite".
The most famous scenic drive in Yosemite is along Tioga Road, a 39-mile drive from Crane Flat to Tioga Pass. Look out for one of the 400 species of wildlife and 'Grizzly Giant', which is not a bear like you'd expect but the largest sequoia tree here – putting your arms around it though for a 'tree hug' might be hard given its insane mass of 962.9 cubic meters. This is another one to stick around for sunset as well, with the El Capitan and Half Dome granite cliffs supposedly looking they are 'on fire', glowing red and orange at dusk.
Yosemite National Park, Merced River. Credit: Visit California
5) Jackson Hole, Wyoming
What's not to love about a traffic jam caused by a herd of bison or a moose? Such is the reality of driving in Wyoming, and in particular through stunning Jackson Hole, a valley in between the Teton and Gros Ventre Mountain Ranges in Wyoming, a Western state in the U.S. Jackson Hole is a premier ski destination in the States that deems itself the 'last real mountain town'. Its motto is to 'Keep Jackson Hole Wild' through various preservation and sustainability efforts.
Our pick of the driving routes is the 'Kelly Loop', which starts and ends in Gros Ventre Junction, as it's your best bet to see bison in the valley up close. The historic Mormon Row, Shadow Mountain, Kelly's Yurt park, 100 year old Moulton Barn and Snake River are other bonus, 'grammable sights.
Golden Hour Bison. Credit: Visit Jackson Hole
And if you're feeling a little arty and with time to spare after the wild, head to the National Museum of Wildlife Art in Jackson town, which includes works by iconic American artists Andy Warhol and Georgia O'Keefe.
Read more