Whether two-wheel purists like it or not, electric motorcycles are no longer the bikes of the future, but instead are considered by many the bikes of the present world. Amongst those is the International Motorcycling Federation, who in collaboration with the leading manufacturer Energica and for the first time ever in the history of the world championship, introduced in 2019 a category dedicated to electric motorcycles with six races held in four European rounds.
On the road instead, the preconceptions that these vehicles are heavy and unmanageable is still present, but the range of new electric motorcycles is growing each year and talking about an engine that delivers Kilowatts, rather than horsepower, no longer results in an awkward conversation. And now, the increasingly accelerated race towards the goal of 'zero emissions' is pushing manufacturers to create bikes with ever-increasing performances and that are capable of transmitting emotions, even without making noise.
Here is some of the top 2020 models by manufacturers that exclusively produce electric vehicles, going from supersports to touring and enduro bikes: motorbikes of different segments, all united by the choice of having Pirelli tyres as original equipment to manage the high torque generated by their electric heart.
Eva Ribelle is an aggressive, high-performance yet versatile electric streetfighter, suitable to both urban use and weekend trips. It features a new MotoE derived power unit that increases torque from 200 to 215Nm, coupled with a significant decrease in weight. The new 21.5 kWh lithium polymer battery allows a more compact, lighter and more natural weight distribution for improved handling. A very important step forward was achieved in regards to the autonomy: Eva Ribelle manages to travel with a single charge up to 400km in urban use, or about 180km of extra-urban rides. It is possible through the charging columns to carry out the so-called 'Fast Charge' by charging almost 7Km per minute, alternatively the Slow Charge allows you to charge about 67Km every hour. Eva Ribelle is equipped with Pirelli DIABLO ROSSO ™ III tyres in the sizes 120/70 ZR17 front and 180/55 ZR17 rear. Pirelli supersports road tyres have been chosen thanks to their high-performance on both dry and wet asphalt, and the ability to work together with the advanced electronic aids to transfer the power of the bike to the ground in total safety.
Zero Motorcycles - Zero SR / S
The Californian company Zero Motorcycles was born thirteen years ago and has managed to produce fascinating electric motorcycles, offering a wide range of electric models that includes naked, touring, supersports, supermoto and enduro bikes. The latest addition is its first full-fairing bike, a high performance vehicle equipped with Pirelli DIABLO ROSSO ™ III tyres in the sizes 120/70 ZR17 front and 180/55 ZR17 rear. The SR / S offers 110 horsepower and 190 Nm of torque and is presented as a non-extreme supersports motorcycle, suitable for a mixed use that also includes touring with a pillion, in a package that weighs just 230 kilograms. The battery has been improved compared to the previous model SR / F and allows an autonomy of up to 323 kilometers with one charge. Like its naked sister, SR / S is also a connected vehicle and offers its owners the opportunity to monitor their motorcycle in four main areas: bike status & alerts, charging, ride data sharing, and system upgrades & updates. For example, you can set the desired times and charge levels remotely, or always keep an eye on your bike using the 'find my bike' tool.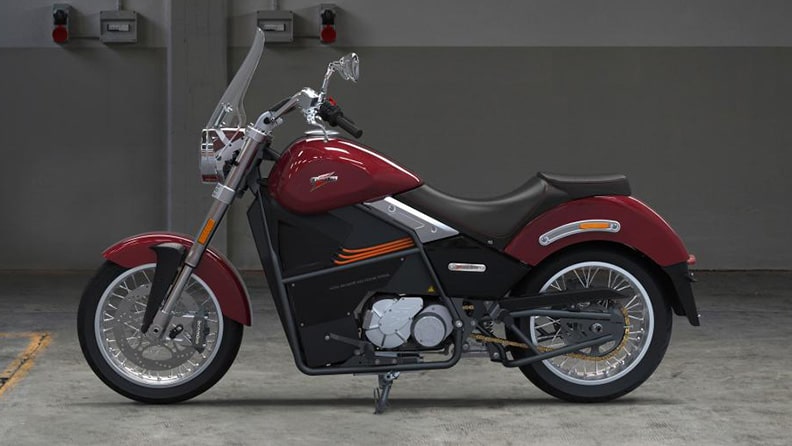 Tacita - T-Cruise Turismo
Tacita, which inherits its name from the Roman goddess of silence, is another company that has decided to focus on electric propulsion and has chosen Pirelli to equip its motorcycles. The newly born T-Cruise Turismo is equipped with DIABLO ROSSO™ III tyres in the sizes 120/70 ZR17 front and 160/60 ZR17 rear and is designed for those who love to travel.
The bike can be customised both in the choice of engine and battery: the best performing specifications are the 44kW liquid-cooled engine (equivalent to 59 horsepower) capable of delivering an instant torque of 100 Nm, the lithium polymer battery Li-Po of 27 kWh with an autonomy of over 320 kilometers, and rechargeable also with common 110/220 V sockets. Finally, like the other models in the T-Cruise range, the T-Cruise Turismo is also equipped with the 5-speed gearbox, reverse mode and with the regenerative braking system that can be customised according to the rider's needs.
Read more
Find
Select the product that fits for you
Want more