From Bruno Munari's ingenious machine for making snow fall on Christmas trees to the Pigomma toy manufacturing process illustrated by Fulvio Bianconi. From Albe Steiner's a tour of the most luxurious festive shop window displays in New York and Paris in 1955 to André François' textured illustrations. And more. Christmas in the words of Umberto Eco: a letter to his son and a satiric tale on Christmas consumerism.
"Pirelli. Rivista d'informazione e di tecnica" was published mostly once every two months from 1948 to 1972. The magazine published articles on various topics spanning from art and architecture to sociology, economics, urban planning and literature. The goal of the publication, created by Arturo Toffanelli who was director until 1957 with Giuseppe Luraghi and Leonardo Sinisgalli, was to consolidate the bond between technical corporate culture and culture at large. After Tofanelli, the magazine was led by Pirelli "Propaganda Director" Arrigo Castellani and ultimately Gianfranco Isalberti. One of Italy's most advanced cultural debates took place on the pages of the magazine for over two decades: major writers such as Dino Buzzati, Umberto Eco, Salvatore Quasimodo, Camilla Cederna published their works by the side of many other important cultural personalities of the day. The articles and reports were illustrated by artists of the calibre of Renato Guttuso, Alessandro Mendini, Fulvio Bianconi, among others.
BRUNO MUNARI'S INVENTIONS
NYLON-WHISKERED CATS AND CHRISTMAS MACHINES
The foam rubber cat has nylon whiskers
Pirelli n. 4, 1949
"I, Bruno Munari, forty-eight kilograms of weight, do not want to interfere with all your hard work and wait here with my cat on the corner joined by bunch of children who are asking me whether they could have one for Christmas".
Photos from the Pirelli Historical Archives
Extra-quiet Christmas machine for making snow fall on a Christmas tree
Pirelli n. 6, 1953
"Tino and Toni (A) the clowns have just made up after a dreadful argument that ensued when Tino (the short one) wanted to go out and buy a sugar violin to suck on. Now Toni is opening the box (B) and showing Patrizia the curtseying doll. Toni is secretly in love with Patrizia, but Tino has played a trick on him: he tied the box lid with a golden ribbon to Pluto's tail (C), so that when Toni opens the box, the ribbon will tug on Pluto's tail and Pluto will jerk the chain of the platform where Bongo the bear and baby cousin Ciccio (D) are standing. Bongo is telling Ciccio a story (one about children and honey pots) but the sudden jerk throws them off balance (E), from the pivot held by Penna and Ossa the Indian (G). Two Zizì monkeys (F), concentrated on ridding each other of fleas, are thrown into the air. They fall a short distance way right onto Bingo Bongo the boxer ape from Harlem (H), native of Bergamo, who is demonstrating his ability by balancing with a sound ball and a dog. Pasqualina the giraffe (I) on her way to Pigomma to call on her sisters stops to watch Bingo Bongo's antics when everything suddenly collapses in perfect silence broken only by a softly ringing bell. The giraffe steps back and presses a button protruding from a box under the snow (L). The box is full of dry snow from the Mato Grosso mountains and under the snow there is a rubber-bladed fan. The fan starts working and the snow is all blown onto the Christmas tree, that for reasons of space we have moved off page to the left. The little rabbit and duck are intruders: they have nothing to do with the operation of the described machine but were called by their friend the dog with a wink of his right eye. Now the dog is acting as if nothing happened and is looking up into the sky. The cat sleeps weightlessly under the snow.
Photos from the Pirelli Historical Archives
Biography: Designer, artist and teacher Bruno Munari (1907-1998) approached the second Futurism at the end of the 1920s. After his experience with Riccardo Ricas, with whom he directed "L'Ufficio Moderno", he founded Studio R+M and worked with Studio Boggeri on several advertising campaigns. In 1948 he was one of the founders of the Movimento Arte Concreta (MAC) and in 1949 he worked with Pirelli on new foam rubber applications for making toys. He received his first Compasso d'Oro award in 1954 for various advertising campaigns, including Pirelli Sapsa (1950), Coria shoe soles (1953) and Pirelli raincoats.
CHRISTMAS LIGHTS AND SHOP WINDOWS
THE TRENDS OF THE FIFTIES ACCORDING TO ALBE STEINER
Christmas shop windows
Pirelli n. 6, 1955
"Legendary themes and names inspire window designers and artists. Nativity scenes, brightly lit churches, bells, snow-covered woods, palm trees and barns, elves, fairies, animals, cosy homes, decked fireplaces, sleighs pulled by reindeer, snowflakes, boots filled with gifts, red stockings and many other traditional themes are interpreted in various manners using modern materials that impress a new tone on the goods and the stories displayed in the windows". [...]
Interesting is also the importance of evocative music and sayings played on records, printed on signs and painted across windows. They aim at influencing the mood of passers-by and customers, who will find it difficult to escape from the urge of invitations and greetings repeated continuously in the most insinuating, intense or convincing manners according to the merchant's needs. [...]
"Of the many trends in current festive window design, three stand out. The first is unquestionable in favour of the goods (that dominate the window display!) presented as mass offerings with few concessions to the most popular season symbols, like holly or mistletoe. The second is a more balanced trade-off between the goods and the tale, while the third does without massive presentations and catalogues and attracts the public solely with a display that creates an atmosphere and draws customers to the shop". [...]
Biography: Albe Steiner (1913-1974) started drawing and painting under the influence of art critic Edoardo Persico. His first abstract art exhibition where in Persico's gallery Il Milione. His contact with Soviet constructivism, Bauhaus and Italian abstract art started in the early Thirties. For Pirelli he created advertising, brochures and posters for an array of different products (linoleum, polyethylene containers, boats, etc.) and designed a cover of the "Pirelli" magazine.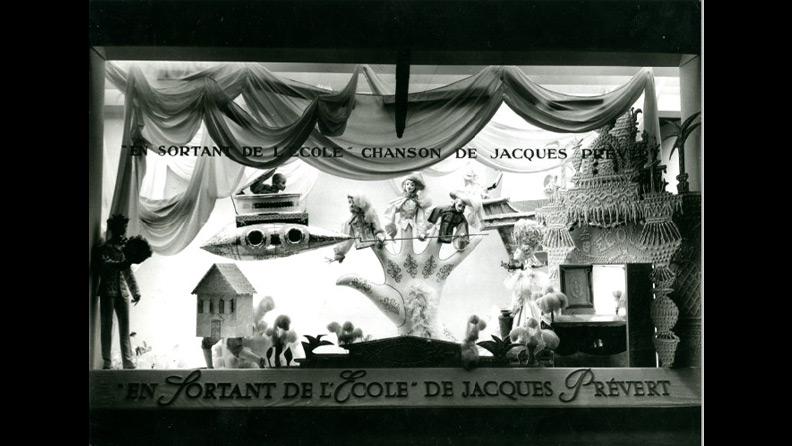 Photos from the Pirelli Historical Archives
The silent toy factory in the drawings of Fulvio Biancon The silent toys
Pirelli n. 6, 1957
"Toy designers must firstly examine all their ideas in pedagogic perspective. The toy must become a friend of the child, his playmate, like a book, a film or a comic strip, it may have a positive or negative influence: so the designer's concern is the educational efficiency, so to speak, of the toy. An equally important issue is that of the appearance of the toy: researching the shape and colour of a doll or a ball often implies a lot of trial and error. Fortunately, there is rubber: crocodiles and panthers made of this material are nearly as exciting as those in real life, but much less dangerous".
Biography: Versatile artist, Fulvio Bianconi (1915-1996) was designer, painter, decorator, illustrator, graphic and designer. After graduating from the Accademia di Belle Arti in Venice, he moved to Milan where he started working as a graphic designer for a number of important companies, including Motta, FIAT, Marzotto, Mondadori and Rizzoli. For Pirelli he started worked in 1956 on a series of articles aimed at illustrating the Pirelli manufacturing methods: with a realist approach, he depicted the manufacturing processes of raincoats, toys, Resivite pipes, boats, Lastex yarn with bright, restrained colours. His sketches were drawn from life in the various plants.
Photos from the Pirelli Historical Archives
Scientific Santa by Andrè François
Pirelli n. 6, 1960
"This is François' take on a traditional and naturally rhetorical theme such as Father Christmas. The result is somewhat muddled, but the red jacket is there and so is the red cap and the affable expression. Upon a second and more careful glance, the trick is revealed and this Father Christmas shows his real nature: a contrivance of pressure gauges, electrical cables and tyre treads making reference to the name of the magazine for which the drawing was commissioned".

Biography: Painter, sculptor, set and costume designer André François (born Andrè Farkas) was also illustrator, cartoonist and designer of books, posters, cartoons and advertising. He studied arts in Budapest and moved to France in 1934, where he attended the Ecole des Beaux Arts in Paris. He changed his surname and obtained French citizenship. His works were published on "Graphics", "Punch", "Lilliput" and "The New Yorker". For Pirelli he created advertisements and illustrations for the "Pirelli" magazine.
Photos from the Pirelli Historical Archives
UMBERTO ECO'S CHRISTMAS:
THE DEMONS OF THE MALEBOLGE AND A LETTER TO HIS SON
Umberto Eco Protocol 00/03 Christmas lights dossier
Pirelli n. 6, 1962
"Christmas celebrations, by virtue of a certain atmosphere of festiveness and general benevolence which is generated at this time of the year, promote cordial relationships, suspend international conflicts for a few days and lead mankind to absurd neighbourly actions, such as gifting presents, paying double salary to workers and making civil conversation. Precisely in order to avoid these dangers I asked your predecessor and now I am asking you to prepare a model plan for the area of Milan that we have chosen as testing grounds".
Dear Stefano
Pirelli n. 6, 1963
"And I will teach you to play very complicated wars games in which truth is never only on one side." "But if by chance, when you grow up, the monsters of your childhood dreams will still be there, with the witches, the kobolds, the armies, the bombs, the mandatory military service, you may have developed a critical awareness towards fairy tales and you will have learnt to move critically in the real world".
Biography: Umberto Eco (Alessandria, 5 January 1932 – Milan, 19 February 2016) was an Italian semiotician, philosopher and writer . For Pirelli he wrote many articles which were published in the "Pirelli" magazine from 1961 to 1964. One of his most famous pieces published in the magazine was "Fenomenologia di Mike Buongiorno" . It was the portrait of Italian TV host and personality Mike Bongiorno published at the peak of his popularity when the Italians crowded bars to watch the first ever and hugely popular TV quiz show "Lascia o raddoppia".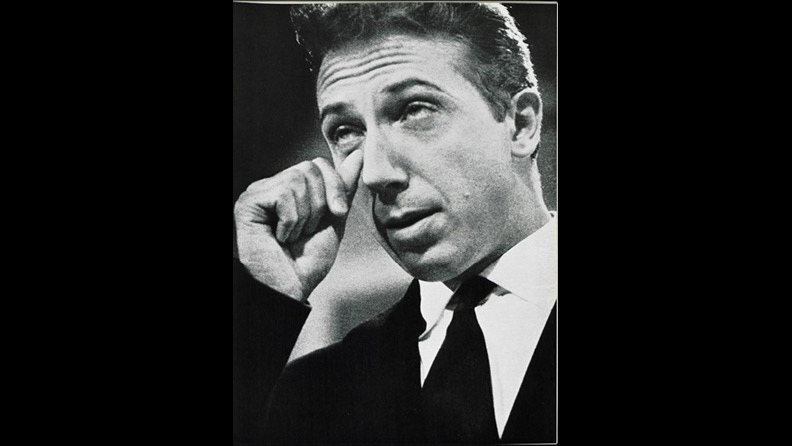 Photos from the Pirelli Historical Archives
Read more