Just a few hours after its on-line sales opened, the ten models of the latest limited edition Aprilia had already sold out. The few lucky buyers also had the unique opportunity to collect their motorbike from Aprilia Racing, the racing department which boasts 54 world victories throughout its history.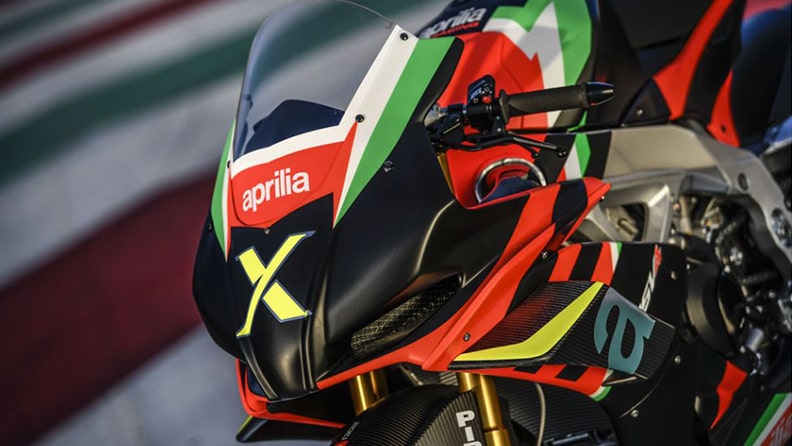 The RSV4 X, which is intended solely for use on the track, is the fine-tuned version of the RSV4 1100 Factory which Noale's make decided to create for the tenth (the X being the Roman numeral) anniversary of the V4, the Aprilia which won seven superbike titles.
MORE BEAUTIFUL, LIGHTER AND MORE POWERFUL
Aprilia Racing focused on light-weight materials to make this celebratory version a featherweight 165 kg: for instance, the same tank - but lighter - as the Aprilia RS-GP or the carbon fairing embellished with graphics inspired by the livery of the model which competed in the Moto GP 2019 world championship.
Several details are in aluminium obtained from a solid block, such as the clutch lever, the front brake lever protection, the engine casing guards, the adjustable pegs and the top steering plate. The already spectacular handling of the RSV4 has been enhanced by magnesium rims forged by Marchesini.
The engine is the 1,100 cc V4, prepared by Aprilia Racing: assembled by hand, and with all the tolerance levels fine-tuned in accordance with regulations with racing bike engines. Another feature inherited from racing is the push button panel that controls the motorbike's electronic functions.
Optimised electronics with specific adjustments for the track, together with the Akrapovic exhaust system with titanium manifolds and carbon exhaust blowpipe, have increased the maximum power of the standard model even further, raising it from 217 to 225 HP. The shift from first to second gear has been speeded up by the ANN (Aprilia No Neutral) system, which places neutral under the first gear, just like the Moto GP Aprilia bikes.
The top-of-the-range Aprilia is fitted with Diablo Superbike, the utmost expression of the finest Pirelli technology applied to the world of road bikes. The Diablo Superbike tyres are slick NHS (Not for Highway Service), in other words intended solely for use on the track, just like the bike they are fitted on.
Available in various compounds, they are capable of tackling different types of asphalt surfaces and weather conditions, and their unique selling point lies in the speed at which they reach optimum temperature: after just a few bends the Pirelli Diablo Superbike tyres are already capable of being exploited to the most, allowing the riders to accelerate right from the first lap.
Pirelli is the Official Tyre Supplier for all classes of the Superbike FIM World Championship since 2004 and the technical partnership set up by Pirelli with the federation, promoters, teams and Championship drivers for bikes derived from the series boasts the record of longest single tyre ever in the history of international motoring sports.
Read more