The comment, written on the back of a sketch by the designer Bob Noorda for an advert for Pirelli Inverno tyres, would appear to have been peremptorily written by Arrigo Castellani, at that time the head of Pirelli Propaganda. We know who eventually won in the battle between the client, the romantic Roman Castellani, and the austere Dutch designer Noorda: the 1954 advertising campaign for the Pirelli Inverno tyre featured the very same hotly-contested 'white tree with black arrows'. Because the black represented both the trunk of a fir tree and the tread design of an Inverno tyre. And those white bars were snow on branches: if someone didn't get it or got confused, that was their problem. Besides, Noorda was the natural born son of Bauhaus and Functionalism: you couldn't ask an intellectual designer to represent winter with snow-shaped snow, or skis, or icicles hanging from a roof. And so this was Pirelli Inverno's fate for the whole of the 1950s: no 'Christmas cards' in its long career as a winter tyre, the predecessor of the modern Pirelli Winter tyres. It was the same story for the artists that followed Noorda.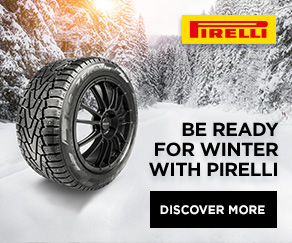 No snowflakes, just lots of Pirelli logos falling from a dark blue sky for Pavel Michael Engelmann in 1955, no ski descents, just minimalist black tracks on a white background for Pino Tovaglia in 1957, and no icicles hanging from the roof, just a rose-tinted 'winter' for Antonio Boggeri in 1958.
Was it possible to write a 'Winter's Tale' without using the classic icons of the season? It would appear so, judging by the success of Pirelli Inverno...
Read more