The online My Voice questionnaire consists of 64 statements for which survey participants are asked to express their agreement on a scale of 1 to 5, plus two open-ended questions that give them an opportunity to offer other observations about their experience. This information is then used to generate a Trust Index© expressing how much trust employees have in the company.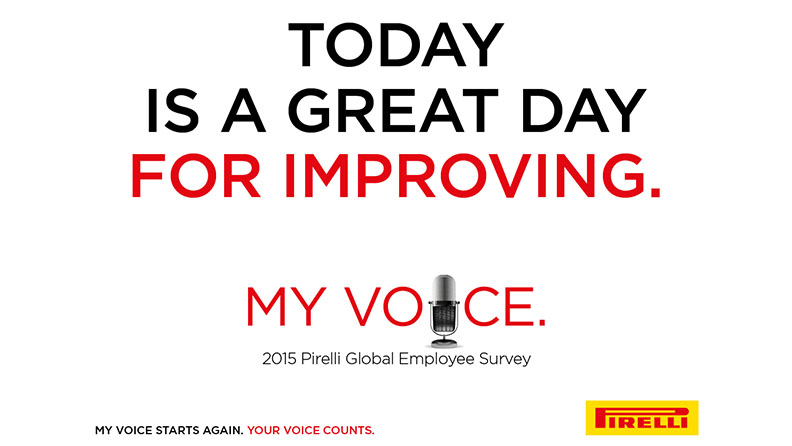 Employee opinions matter
The global My Voice survey, which has been available to Pirelli employees for three years now, is conducted in collaboration with Great Place to Work©, an international organisation that monitors the workplaces of over 7,000 enterprises around the world each year. Based on this organisation's model, the "greatness" of a workplace is determined by the trust employees have in the company, and this trust is calculated in relation to the five aspects assessed by the survey, i.e. credibility, fairness, respect, interpersonal relationships, and sense of belonging. The first three aspects measure how much employees trust management, whereas the latter two measure relationships between employees and with the organisation as a whole, the degree of socialisation, enjoyment, and sharing among co-workers.
We all want to work for a "great" company, one with a positive atmosphere in which we feel appreciated and where we are happy to give back through greater productivity. Indeed, a corporate culture based on trust leads to excellent levels of performance both individually and for the organisation as a whole, and this is the underlying philosophy of Great Place to Work©.
Internationalism and comparability
The international scope (i.e. the ability to conduct the same survey everywhere Pirelli operates) and comparability of the survey, not only within the organisation but also with other multinational corporations, are two of the benefits of My Voice. For a company, it's essential to be able to compare data both internally over time and with other benchmarks in the industry, both globally and country by country. Local benchmarks make it possible to evaluate results based on specific cultural traits found in the workplace in each individual country. The perception of positivity within an organisation, regardless of the industry, is heavily influenced by both cultural and environmental aspects, because an individual working in Italy, for example, "breathes the air" of that culture, even when working for a multinational organisation, and the same goes for someone working in Germany, China, or Mexico.
Anonymity and confidentiality guaranteed
During November and December of each year, the login credentials needed to participate in the survey are distributed. These credentials are completely anonymous, making it impossible to identify the individual participant. Office workers receive an e-mail message directly from Great Place to Work©, whereas factory workers receive their credentials in hard copy. Over the course of a four-week period, people can take part in the My Voice survey, after which Great Place to Work© analyses the results. These results are then provided to Pirelli as early as February of the following year, and Pirelli, in turn, reports the outcome of the survey to all employees. In order to ensure the confidentiality of the survey, only aggregate numbers for groups of more than ten participants are reported, and no data for groups of smaller than ten individuals are made available.
Both global and local action plans are then defined from March to November in order to take action in areas that have been found to be in need of improvement. Each country or area of the organisation sets goals to be reached and identifies specific areas of focus and actions to be taken in order to work on improving the Trust Index©. This process has been fine-tuned over the years and has already provided benefits, given that survey participation levels have risen from just 61% for the first year to 87% for the most recent survey in 2015. At the same time, the overall Trust Index© of Pirelli employees reached 60% in 2014, which is slightly higher than the benchmark for Italian multinationals.
As employees increasingly see Pirelli as a great place to work and as a trustworthy company, merit must certainly go to the constant, focused efforts within the organisation to work on the issues that have arisen within the help of the My Voice survey.
And that's a win-win.
Read more