When American photographer Herb Ritts was chosen to shoot the 1994 Pirelli Calendar, he was already one of the biggest names in fashion, entertainment and commerce. He excelled at taking pictures of models and celebrities. His music videos were nominated for awards. His advertising campaigns became instant classics. As the man of the moment, he was the perfect choice to capture the vision of the Calendar's art director Derek Forsyth, who said he wanted "to create a theme and a style that were modern, but also classic". And it was inevitable that the photographer known for ushering in the era of the supermodel would feature a stunning line-up of top models – Helena Christensen, Cindy Crawford, Karen Alexander and relative newcomer Kate Moss.
For the 1994 Pirelli Calendar shot in the Bahamas, photographer Herb Ritts set out to capture in a series of nudes what he called "the gentle innocence" of Kate Moss, who was then just 19 years old.
His music videos were nominated for awards. His advertising campaigns became instant classics
In the preceding years, the Calendars had been highly stylised and themed. The 1991 edition by Clive Arrowsmith paid homage to national war heroines and was inspired by Caravaggio's paintings. The 1992 Calendar, also by Arrowsmith, featured models dressed as dragons, monkeys and tigers in a nod to Chinese mythology. It was time for something new. Forsyth contacted more than 10 photographers before choosing Ritts, won over by his style, his classic images, his method of work and his enthusiasm and empathy for the theme of the Calendar. After all, no photographer was better at producing pictures that were modern classics.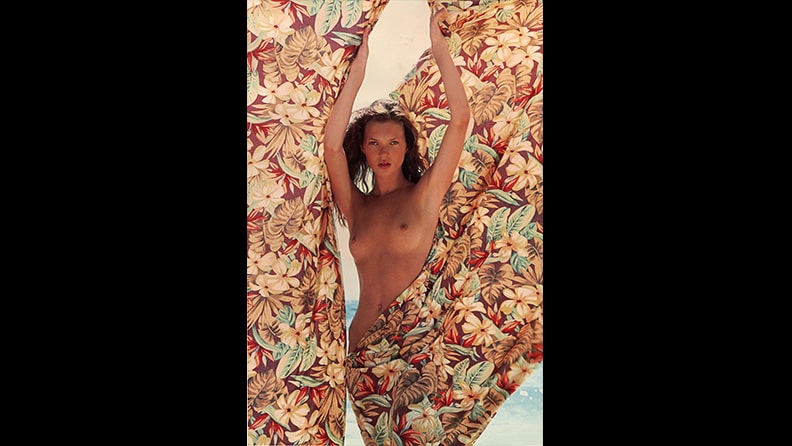 After working together on the now iconic 1992 Calvin Klein ad campaign with Mark Wahlberg, photographer Herb Ritts and model Kate Moss reunited in the Bahamas to shoot the 1994 Pirelli Cal, which featured this seminal nude portrait for April.
Raised in Brentwood, Los Angeles, Ritts grew up around celebrity and was always comfortable around fame. As a kid, his next-door neighbour was screen legend Steve McQueen, who used to take him on motorcycle rides in the desert. Largely self-taught as a photographer, Ritts got his big break in 1977, when, driving around with his then-unknown actor buddy Richard Gere, the pair got a puncture in their Buick LeSabre. They ended up in a garage in San Bernardino and killing time while the tyre was repaired, Ritts took some pictures of Gere, standing next to the car in jeans and a singlet with a cigarette hanging from his mouth.
Within the year, Gere was a big star and the shots had been published everywhere. Ritts started getting booked for jobs. By the mid-1980s, he was shooting covers for Vanity Fair, Harper's Bazaar, Vogue and GQ. By the early 1990s, he was directing music videos for Madonna, Chris Isaak and Michael Jackson, and shooting campaigns for Gianni Versace and Calvin Klein, including the seminal advert for Calvin Klein underwear from 1992 featuring rapper Marky Mark, aka Mark Wahlberg, and a 17-year-old model called Kate Moss.
The 1994 Pirelli Cal shot by Herb Ritts aimed to capture "the women of the 90s and their place in the world: proud, sexy and beautiful on the inside". Cindy Crawford was the epitome of that, here striking a classic pin-up pose.
Ritts was primarily known for shooting in black and white and using natural light, specifically that of California's "golden hour", roughly the period between 4pm and 6pm. Many of his photos were shot on the flat roof of his studio (formerly Gene Kelly's dance studio) in Hollywood, where Ritts had a rotating wall installed that could pivot towards or away from the sunlight. He also favoured natural locations such as the dry lakebed of El Mirage in the Mojave Desert, which was the backdrop to some of his most arresting images, including Versace, Veiled Dress and Versace Dress, Back View. He made models and athletes look mythic: their bare skin, toned muscles and bodily contours exalted through his lens. He also had a gift for capturing celebrities at their most iconic, including singer KD Lang being "shaved" by Cindy Crawford on the cover of Vanity Fair.
Ritts was known for shooting in black and white and using natural light, specifically that of California's 'golden hour'
As a fashion photographer, Ritts is forever linked with the supermodels, with his statuesque images of Naomi Campbell, Christy Turlington and Crawford. His most defining snap was a group shot taken for Rolling Stone magazine in 1989, featuring Crawford, Turlington, Campbell, Stephanie Seymour and Tatjana Patitz. There was no set-up, no theme – just the five women, nude and huddled together on the floor of his studio, a picture of vulnerability and strength. It was a photograph that only Ritts could have taken because of the trust he inspired in his subjects.
Karen Alexander broke ground as a black model in the 1980s and 1990s and is sometimes known as "the other supermodel". In this arresting image from the 1994 Pirelli Calendar, photographer Herb Ritts showed why she is considered one of the greats.
Ritts wanted the 1994 Pirelli Calendar to be "more 90s" than previous editions, which meant casting the top models of the day and portraying them "in their most natural, inner beauty". Ritts chose four women, each with what he called her "own special sensuality". He characterised it this way: "the gentle innocence of Kate Moss, the strength of Helena Christensen, the classic beauty of Cindy Crawford, and the refined elegance of Karen Alexander".
The shoot took place in late May and lasted 10 days. The location was Honeymoon Island – a private, uninhabited island in the Bahamas. Every day, the crew got there by ferry at dawn from nearby Paradise Island. The final images mix colour and sepia black and white. Shot on and around the beach, the setting is never allowed to pull focus from the women themselves. We see a printed cloth, some palm fronds, a glimpse of sand. Nothing more. The models are mostly nude except for a shell necklace, a fishing net or a hessian brief.
Photographer Herb Ritts was pivotal in launching the career of Danish model Helena Christensen in the early 1990s. Working together on the 1994 Pirelli Cal resulted in this beach portrait, one of the most cherished pics from either's extensive body of work.
Shot on and around the beach, the setting is never allowed to pull focus from the women
The Calendar was entitled In Praise of Women. Among the models, Moss was the youngest. Her emergence on the scene in the early 1990s (aided by a photo of her by Corinne Day that graced the cover of British magazine The Face) marked a shift in fashion away from the Amazonian glamour that Ritts offered towards a grungier aesthetic and so-called "heroin chic". None of that shows here, though, as Ritts captures Moss at her most natural and timeless.
With his fresh take on sensuality, Ritts helped to revitalise the Pirelli Calendar. Five years later, he returned to shoot the 1999 edition, which was themed Women Through the Decades. Then in 2002, at the age of 50, Ritts died of complications from pneumonia. Although he left behind a substantial body of work, his Pirelli Calendars remain testament to a photographer at his peak.
The 1994 Pirelli Cal was shot by Herb Ritts in the Bahamas and culminated in this December spread featuring Cindy Crawford. Sexy, modern but classic, too (in sepia B&W), it typified that year's images and ushered in a new era of success for the Calendar.
Read more
Find
Select the product that fits for you
Want more