The day I arrived, there were no question or doubt as to what theme Tim had chosen.
Maybe it was the oversized flowers, mushrooms, and tea-party set-up that gave it away, but it was obvious that it was centred around Alice's Adventures In Wonderland. Tim Walker always has a way of making things other-worldly and fantasy-like, so this almost seemed strangely familiar. But after spending some time with Tim himself, along with the stylist and cast, I realised that this was Alice's Adventures In Wonderland like you've never seen it before. He mentioned to me that Alice has always been portrayed the same way throughout the years, and that it was important for him to not restrict people to the stories and images that they may have seen in the past. "Now we have Alice looking different. Alice can be anyone. It's an essence... you don't have to be confined. Focus on what it represents. It's important for cultural development," he said.
After sitting down with the team, we were able to visit the actual photosets to discover the costumes and set designs. One of the most memorable moments was when I was actually able to see the moodboards, and meet Tim's equally legendary set designer, Shona Heath. She walked me through the process of where and how it all began. I find it incredibly fascinating hearing where creatives derive their inspiration and ideas. She said for Alice's costume there was a fabric that she was obsessed with from a vintage couch, and that's how it all began. She went on a search for a fabric that looked similar, finding a curtain that came very close to it. Given Alice's pastime was incredibly cheeky, it almost created a juxtaposition of this vintage material in a modern and youthful silhouette.
This was one of the first projects I ever worked on where I couldn't use my phone or social media at all, which made the anticipation and excitement even more real. Given it is guarded as one of the most anticipated and legendary unveilings every year, I guess it's no surprise!
From the cast to the costumes to the set, everything was full of surprises, and it was truly an honor to witness the creative process and making of the Pirelli Calendar with one of my favourite photographers. I left feeling utterly inspired by all of the hard work and magic that goes into making The Cal.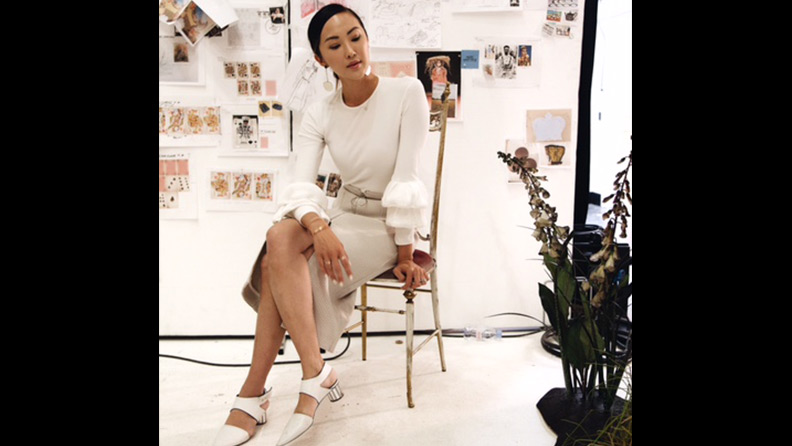 BIOGRAPHY
Stylist and Digital Influencer, Chriselle Lim has been creating quite a stir in the fashion industry. Starting off her fashion career as a wardrobe stylist, she logged in years of editorial shoots with prominent fashion books and celebrities. In December 2011, Chriselle founded The Chriselle Factor to chronicle her daily musings and personal style. She also launched her YouTube channel to empower and inspire women all over the world. She helps them discover their true beauty and gives them the confidence they need to feel beautiful. Within a short period, 650k+ people have subscribed to her YouTube channel. With over 29 million views, Chriselle is the #1 Fashion Expert on all of YouTube. Chriselle's goal is to encourage, educate, and inspire all women across the globe through her personal style, runway trends, beauty secrets, and fashion tips and tricks. She is now one of the most influential tastemakers on the web, and if her addicting daily musings are any indication, the best is yet to come.
Read more